Here is my alarm for the 12 volt battery. A makeshift affair at this point but low cost. Parts used are:
Voltage monitor with LED and audio (beeper) alarm functions. Bought it here from New Harbor because it shipped from the US (it came in like two days). It is made for monitoring batteries in model aircraft so you know when to land! There are all sorts of things like this out there.
Cable to connect to it easily - here's the link. Also from New Harbor.
Three 470 ohm 1/4 watt resistors.
A 1/2 amp fuse (do not connect anything to the battery without a fuse!)
Red and black clip leads
The monitor looks like this (the two black thing on the left are beepers):

It can monitor up to 6 lithium cells at about 3.5 volts each. So I use the resistors to make it think its connected to a 3 cell battery with about 4 volts on each cell. You can set it to alarm (lowest cell) anywhere from 3.00 to 4.00 volts in 0.05 volt steps. Mine is set at 3.60 which, with my crummy resistors, should alarm at about 11.2 volts on the car battery.
Here is the whole mess connected to my camping battery - monitor/alarm, resistors, fuse and clip leads: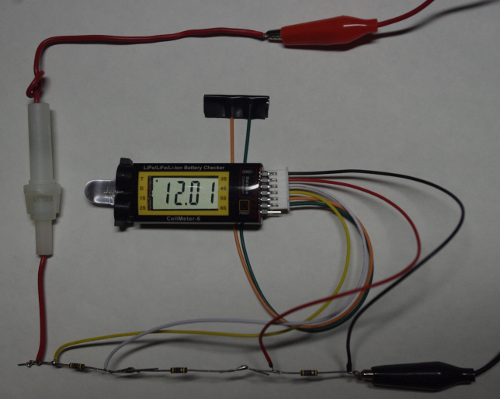 The display cycles through total voltage (shown above), largest delta between "cells" (don't care about that), and each "cell" voltage. The lowest one is important since it will trip the alarm.
It is now connected under the hood all stuffed in a plastic bag near the grille and duct tapped in place (don't know if it can stand the heat). The beepers are quite loud so I should hear it out in the garage if I'm awake and in the main living area of the house. Asleep is another story but a $15 audio only baby monitor should solve that problem.
The battery monitor draws 27 mA. The current goes to an average of 60+ with the alarm going off.
I hope this is all a waste of time!