Just pushed the bar a little higher without running out of gas, sorry Jus. Smart Gauge reads 902.2mi/14.13gal and 63.8mpg then corrected for(New Tires) Odometer error of 1.019%= 918mi.. I put in 13.5gal., second click= 68mpg for the trip. In theory having .4-.5gal. left I could have gone another 25-30mi. before running out or 945-950mi. total. Also 72% EV, 28% ICE.
My Wife and I decided go someplace Warm after Xmas, Florida didn't disappoint with temps in the 70's-low 80's to look at Lighthouses for fun. It turned out to be harder than I figured but that's another story. To get ready for the trip I set up MADMAX with everything I could think of to improve MPG's like 50PSI tire pressure, installed New Upper Grill Cover along with Center and lower Grill Covers. Also Wheel Covers, GasPods, covered Fog Lights and taped seems around hood, Lights and Grill Covers with clear packing tape to minimize heat lose. You get your best MPG's when WT is above 200*F which I monitor with my ScanGaugeII. I topped off my tank with eight gallons ethanol free gas plus 2gallon gas can if I needed it, I didn't.
Started trip Dec. 26th and it took 4 days to go the 900+ miles. The first day temps in Newnan,GA were 35*F when we left and it took about a hour to get the WT up 200*F with speeds between 35-55mph on State Routes and about three hours before I could get my average to 60mpg when temps got up to the 50's. After 10 hours I was up to 67.4mpg so things I thought were looking promising.
Second day I lost .5mpg right of the bat because of warm up of ICE, couldn't plugin ICE heaters on the trip. Then made a wrong turn and ended up on I-95 for 15mi. with speeds up to 77mph, lost another .5mpg. St. Augustine was having a Party and got stuck in gridlock for 2.5 hours and only lost another .5mpg.
Third day started at 66mpg and by the end of the day I was down to 65mpg average, because of head winds.
Forth day we had rain so we lost another 1MPG so I thought from looking at the not so Smart Gauge being off by .6 gallons and I went at least 50 miles pass 0m to E expecting to run out at any time for the last 30miles. It looks like I could have gone another 20-30miles.
I still think it is possible to go a thousand miles on at tank, but everything would have to go your way to do it. It looks like if traffic and weather conditions had cooperated I could gotten around 970-980miles, getting very close.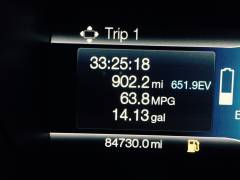 Paul
Edited by ptjones, 03 January 2015 - 09:06 PM.