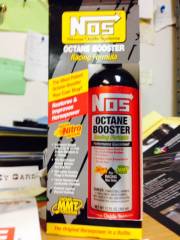 After using NOS Octane Booster Racing Formula a month ago and five fillups later my HWY FE has increased 2-4 MPG. It doesn't appeared to improve City MPG much. This morning I went to the Atlanta Airport and back on I-85, about 70 miles, Temp 56*F with some light rain. Speeds were between 80mph and 60mph most of the time and averaged close to 56 MPG, then when you add in the loss of 3 mpg from outside temp of 56*F + light rain it just makes it that much more amazing. I'm wondering if the ICE computer learned to run more efficient after using NOS Octane Booster.
It would be interesting to see if anyone else can duplicate my HWY MPG improvement by filling up with Premium and adding a bottle of NOS Octane Booster. It is available at Walmart and most Auto Parts Stores for $10-$15.
Paul
PS My HWY MPG is almost as high as CITY MPG.
Edited by ptjones, 19 November 2015 - 10:34 AM.