Finally got MadMax back from the body shop after 6 long weeks! Would never know a buck bounced off the front of the car wrapping itself around the front fender. Fortunately I didn't have the physical problems Jus had with his accident and am happy he and Maxine have reunited to ring in the New Year together!
Here are photos before, during and after for those who wonder what a C-Max looks like torn apart: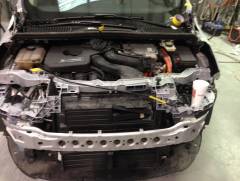 Total cost including rental car exceeded $7,500! So far so good...car drives fine and getting good fuel mileage. It would appear that they did not disconnect the battery but they did ruin my fuel mileage from about 45mpg down to 34.4mpg
! I have managed to get it back up to 40.6mpg so I expect to finish out 44-45mpg on this tank. I reinstalled the old covers while I work on a new improved design.
Happy New Year! I've really enjoyed participating on this Forum and the camaraderie we all share here. Here's to more excitement and information in 2014
Paul