Today I'm looking under the back to see how the tires are wearing (quite well actually) and, horror of horrors, I see a small hole in the muffler with black stains streaking back from it. I start calling around for a replacement. No one seems to have it - dealer item. Its $250 online, closest dealer says about $340 and several days to get it. I call the dealer where I bought the car and got a price of about $440 installed but was then kindly (!) informed that mufflers have "weep holes" to let the water out and some streaks therefrom could be expected after 137k miles! Well, the little hole is right at the bottom where a "weep hole" might happily live (see photo) so I think I'll just let it have a good cry. Now I'm wondering:
Has anyone else heard of this weep hole or seen it on their muffler?
Does anyone else have streaks coming back from it?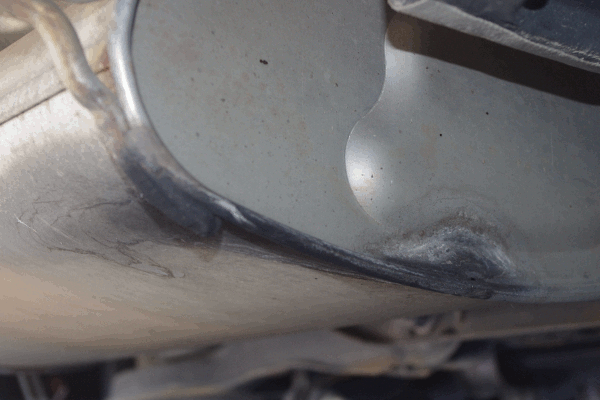 P.S. I suppose this might have been a good chance for an unethical dealer to say, "oh that's not good, bring it in and we'll put on a new one."